HUGE FALL INVENTORY REDUCTION SALE
  Saturday
October 3,  2015
2697 Shrubs and Perennials must be sold this weekend at the crazy low price of $5.97 each while they last!
I know this is a crazy low price but I have to make room for my new plants coming on, so these plants must go NOW! Listen carefully! I've got some really nice plants that are raring to grow. Plant them now for a beautiful spring landscape. It's first come first served and when they are gone, there gone! We've got lots of shrubs, perennials, and small trees.
Grab your blue or red pen and circle the things you are interested in. The list is almost endless so here we go!
First we have a bunch of Java Red Weigela, Variegated Flowering Weigela and Red Prince Weigela (my wife's favorite) with red blooms. We also have the Minuet Weigela that is the dwarf of the group and only grows to a height of 30". All of these rebloom late summer after a spectacular spring bloom.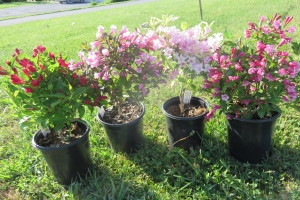 We have Burkwoodii Viburnums that are very fragrant as well as Arrowwood Viburnum and yes, I know there are Cranberry Bush Viburnums somewhere down in the sale area.
Lemon Princess Spirea, Little Princess Spirea, Gold Flame Spirea, Anthony Waterer Spirea, and Neon Flash Spirea all hot sellers we have waiting to explode in beautiful living color next spring.
Edible berry producers like Aronia Chokeberry Viking, Blackberry Triple Crown Thornless (makes me hungry now), Elderberry Sambuscus produces berries great for jams and jellies.
Butterfly bushes like Black Knight, Pink Delight, and Royal Red. These drew lots of butterflies growing in our small pots this summer. These will really do the job of drawing butterflies this spring.
Azaleas, like Gibraltar, Girard's Fuchsia, Girard's Hot Shot, Hershey Red, Hino Crimson, Orchid Herbert, Pink Boudoir, Poukhanese and Delaware Valley White all ready to give you a great spring flower show. Plant now and watch them grow and bloom in the spring.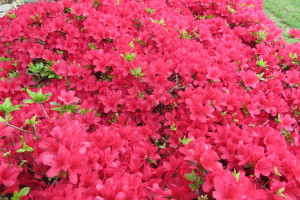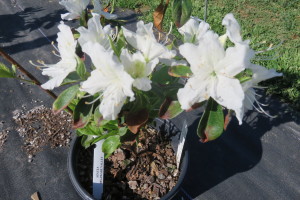 "Rhododendrons R Us" is what my wife calls us now. Roseum Elegans, Orchid Herbert, Catawbise, is just the start of a long list we have available. At $5.97 they are a steal!
Oh yes, we have the always popular Annabelle Hydrangea which never fails to bloom. Then there's Nikko Blue Hydrangea, Parzifal, Ruby Slippers,  All Summer Beauty and Mariesii which has the variegated leaves – all for $5.97
Hypericums like Gemo and Sunburst. Itea Henry's Garnet read to grow!
For early bloomers we have Chaenomeles Quince Cameo and Crimson n Gold. You'll love the flowers on these. Then we have the ever popular Lynwood Forsythia with its early yellow bloom. Great for hedges. New this year is the Kumson Forsythia with variegated leaves. Check it out while they last.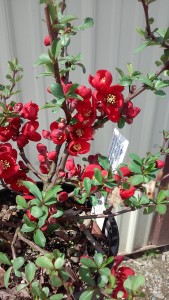 We have what I consider a highly underrated landscape plant the Clethra. We have the Hummingbird Summersweet and the Ruby Spice Summersweet dwarf. Give them a try and you'll like them.
Come on Tom, stay awake. Oh yes, we have ground covers like Blue Rug Juniper, Blue Chip Juniper and the always popular Cotoneaster "Queen of Carpers" and more my tired mind can't think of.
Zzzzzzzzzzzzzzzz…………..
Well, I'm back at it! I fell asleep and when I woke up it was time to get ready for our annual Fishing Trip to Canada. So off we went, Kathy, me, and the boat and our great friends, Ken & Carolyn. What a trip – we caught 269 fish! Take a look at the pictures, especially the sunset one. Made me want to stay.
Okay, back to plants. Need a thick evergreen hedge? We have Emerald Green Arborvitae. Other Arborvitaes we have are Lionsville Arborvitae, Rheingold Arborvitae and some Hetz Arborvitae. We also have Gold Coast Juniper as well as Saybrook Gold Juniper. Those add tremendous value to your landscape. Come and see!
We have Japanese Maples for only $5.97. We have Snow Dwarf Mock Orange which is a great blooming machine and small size to boot.
Think Tom think! Yes, Royalty Ninebark fit for a King and of course Ninebark Nugget. Put a purple burgundy and yellow nugget in your landscape. People will ask where you got that combo!
We have a very limited supply of Mugo Pines and Bird's Nest Spruce available. Both are cute and slow growing evergreens.
I see Abbottswood Potentilla and Gold Drop Potentilla. Both make beautiful landscape additions. We also have Golden Vicary Privet.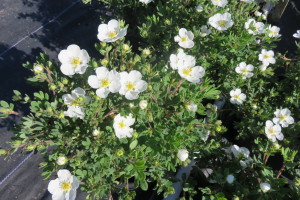 I should be committed for selling the redbuds I have for $5.97 each. They are beautiful and we don't have a lot of them. Hurry over Thursday, Friday and/or Saturday.
Oh yes Grasses!
Look, I'm the guy who lost 50 lbs. since February and didn't use pills, surgery, or magic potions. If you can't find me, for sure, my wife Kathy who has lost 42 lbs. had the guys in white coats take me away for selling grasses like Cherry Sparkler, Fireworks, and Sky Rocket for only $5.97. Come to think of it, I am crazy!!!! Please don't tell anyone I said that.
Holly – oh yes my beautiful Blue Boy, Blue Girl, Winterberry Jim Dandy and Red Sprite and somewhere in this place is Sky Pencil Holly.
Now those precious perennials like Amethyst Mist, Capaccino, Melting Fire, Raspberry Regal Cora Bells. These are favorites of mine!
I have Deutzia Nikko in limited supply. I have Copper Dierville which is a beautiful plant for fall color and somewhere are some Burning Bush as well. Then for spectacular winter color, we feature Red Twig Dogwood, Yellow Twig Dogwood, and Variegated Red Twig Dogwood.
Oh I almost forgot, we have trees. Let's see – we have white blooming Kousa Dogwood, Red Flowering Dogwood and I think some pink flowering Dogwood, Japanese Whitespire Birch, Prunus Okame Cherry, Yoshino cherry, and Virginia Sweetbay Magnolia are at or below Wholesale Prices. It's the best time to plant trees.
We have Golden Curl Willow that do well in wet areas for the ridiculous low price of $9.97 each. They are in 3-5 gallon containers and about 5 ft high. They make great shade trees. Oh, Oh, and weeping Cherry Trees for $19.97 each – a steal at that price! I need to plant one myself!
Listen up! These are the rules of engagement. I don't do phones! Way too busy! Just get in your car, SUV or truck and come and see what we have.
People often ask why we sell most plants for $5.97. The reason is that I think of you, the plant buying public should have an option. Most of our product we grow ourselves so the margin of profit allows us to do this. We put them in special pots and sell at prices almost anyone can afford. There are all kinds of places where you can buy expensive plants. Our job is to give you a chance to buy plants at a lower price.
We are located at 557 Hackman Road just North of Lititz, PA. The Zip Code is 17543 to use in that GPS thingy. Just come on over Thursday, Friday, and Saturday – pull in the driveway and park on the grass.
Lastly, we only sell plants a few weekends each year. Don't miss out! Come right now Saturday, October 3, 2015,  8 AM to 3 PM. I can't wait to meet you. Now get in the car, SUV, or truck and get over here and look for Tom & Kathy in the green shirts, ready and willing to help you!