Click Here to Share on Facebook
Huge Fall Inventory Reduction Sale Continues!
Wife Adds Blessing To Continue Selling Most Shrubs & Perennials
For $5.97 Each While They Last!
We are Open Every Friday 8 a.m. to 6 p.m. and Saturday 8 a.m. to 3 p.m. until further notice!!!!!!!
Yup, just like in any good marriage we compromised. I admitted that I probably am a bit crazy, okay maybe a lot on the crazy side and she agreed!! See how simple that was. Wait a minute, something doesn't quite sound right about this compromise.
Oh well, the important thing is we still have thousands of shrubs and perennials available for $5.97 each. Get a pencil or pen and paper and write down what you want. Now is the best time of the year to plant shrubs, perennials and trees. Here is a partial list.
This is the Scotch Broom everyone wanted from our landscape this past June. This is one of the three blooming colors we have it in. You need at least one of these in your landscape.
This is a Java Red Weigela. We also have Red Prince, Variegated, and Minuet (Dwarf) Weigela available. Come and take a look. Several of these bloom two times a year and these are very hardy!
This picture is a load of Gold Flame Spireas. As fall goes along they become a deeper golden yellow and red. We also have Anthony Waterer, Lemon Princess (Bright Yellow) and Little Princes Spireas as well. A beautiful plant and Deer Resilient.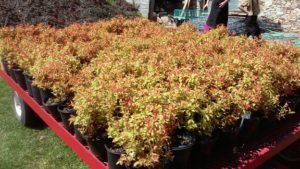 We have Viburnums like the fragrant Burkwoodii as well as the Arrowwood, and the blooming machine Summer Snow Flake Viburnum. We have the Ninebark Nugget and Ninebark Royalty in 3 gal. containers for only $5.97 each. That is an unbelievable steal. Kinda like getting into Fort Knox and getting away with the gold! Almost had the wife calling the guys in white coats to come and get me for being this crazy. We have Hydrangea's like Nikko Blue, Parzifal, Annabelle, Mariesii with variegated leaves, and the beautiful Masja with its fantastic RED blooms! These are a fantastic buy and this is the last you will be able to buy these at only $5.97 each.
Got neighbors that are driving you crazy? I have Emerald Green Arborvitae and Bridal Wreath and several other plants that make good hedges. Then we have Red Sprite (Female) and Jim Dandy (Male) Holly. You need these to feed you birds over the winter.
We have Summersweet Clethra that bloom late June into September. We have a white and a pink blooming one. We have ground covers like Blue Rug Juniper, Cotoneaster that grows only 8" tall with white flowers in spring and red berries in the fall. We also have Deutzia Nikko.
We have Redbuds, Lilacs, Quince, Red & Yellow Twig Dogwoods and even a Red Twig with Variegated leaves. Oh yes, Potentilla, Butterfly Bushes, Aronia Chokeberry, Black Berry Bushes, Daylilies, Dierville Copper, Fothergilla, Coral Bells, Hypericums, Golden Vicary Privet, Sedums, Mock Orange, Boxwood, Caryopteris, Forsythia/even a variegated leaf one that doesn't get to big, Hosta, Blue Chip Juniper, Munstead English Lavender, and much more all at $5.97 each. There are many more I can't think of now. My memory is good but short!
Our best selling plant since we started is the Salix Hakuro Nishiki. Everyone needs one of these in your Landscape!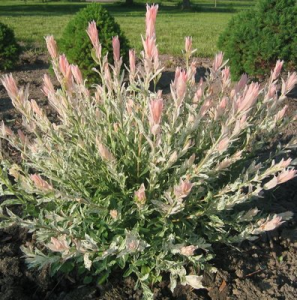 Oh yes, we do have larger plants in larger containers at or near wholesale prices. We have Rhododendrons and Azalea's at prices that will knock your socks off as well as White, Red and Pink Flowering Dogwood Trees, Redbuds, Weeping Maples, Golden Curl Willows, Grafted Maples, and more. I don't know what I'm thinking selling these plants at such low prices. I must need help. We are open Friday 8 a.m. to 6 p.m. and Saturday 8 a.m. to 3 p.m. These are the only two days of the week we are open because this is a part-time thing for us but probable full-time very soon.
Plug in that GPS thingy and enter: Longview Nursery, 557 Hackman Road, Lititz, Pa. 17543 and get over here early and get the pick of the bunch. For payment we take cash, checks, and credit cards. I don't put my phone number because I don't do a lot with phones because I'm way to busy. Look, get in the car and come on over and look me up. I'm the guy with the white hair and green shirt! My wife Kathy is the good looking young lady in the green shirt! You can save money coming here!!!!!!!
Click Here to Share on Facebook