Click Here to Share on Facebook
HUGE FALL INVENTORY REDUCTION SALE!
2,757 Plants Must Be Sold At The Crazy Low Price Of $5.97 Each!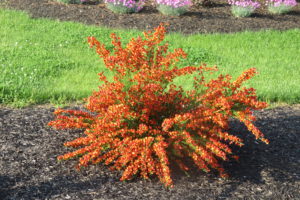 (This is the one everyone wanted to take from our flower bed this spring)
Thursday & Friday, 9/22 & 9/23 8 a.m. to 6 p.m.
Saturday 9/24 from 8 a.m. to 3 p.m.
I know it is crazy to sell these plants so cheap but I have way too many and need the room. This is just a partial listing of what you can get for $5.97 each. Red Prince Weigela, Java Red Weigela, Minuet Weigela (Dwarf Variety), and Variegated Weigela. All four of these varieties are blooming machines with color of flowers from Red to Pink!
Now is a great time to print this out and get your green or red pen and circle what you want!
Oh yes, there is Gold Flame Spirea, Lemon Princess Spirea, Anthony Waterer Spirea, and Little Princess Spirea. I'm sure there are some other ones but they don't come to mind right now.
I'm sure my family thinks I'm out of my mind but I'm selling our Viburnum Burkwoodii, Arrowwood Viburnums, and Summerflake Viburnums. These will satisfy the most discriminating Viburnum lover.
I have to be real careful about my wife finding out about this one. She for sure will have the guys in the white coats after me since I'm selling Itea Henry's Garnet in 3 gal. containers for only $5.97 each and yes even Ninebark Royalty and Ninebark Nugget in the same size containers for only $5.97 each. I know what competitors sell these for and these are a steal!!!!
Then we have Hydrangea's like Nikko Blue, Parzifal, Annabelle, Peewee. Look, These are a bargain and this will probably be the last time I can sell them at this price! Come and get one or more.
Got neighbors that are driving you crazy? It seems like many people do. I have Emerald Green Arborvitae, Bridal Wreath, and other great hedge material as well.
We have a limited supply of our all time leader in sales the Salix Hakuro Nishiki! Everyone needs at least one of these!
Take a look at our Summersweet Clethra. We have a pink blooming one as well as a white bloomer.
We have ground covers like Blue Rug Juniper, Cotoneaster, Deutzia Nikko, and more.
Almost forgot! We have several kinds of Scotch Broom. Kathy has posted a picture of one in our landscape. Lots of OOOOO's and AHHHHHHHHHH's on these! Get here early because we do not have a large supply and at $5.97 they will go quickly. I could go on and on but here are a few more. Redbud's, Lilacs, Quince, Red & Yellow Dogwoods, Potentilla, Butterfly Bushes, Aronia Chokeberry, Black Berry Bush, Daylillies, Dierville Copper, Fothergilla, Coral Bells, Holly, Hypericum, Golden Vicary Privet, Sedum, Mock Orange, Boxwood, Gold Thread Cypress, Junipers and many more I don't have room here to list. We do have Larger Shrubs and Trees at prices from $7.97 to $59.97 that or near wholesale prices. These are Rhododendrons, Azalea's, Weeping flowering Cherry Trees, White, Red, and Pink blooming Dogwoods, Redbuds, Weeping Maples, Special miniature grafted maples, and of course Golden Curl Willows and more I can't recall now! I don't know what I'm thinking to be selling these plants at these crazy low prices. I must need help! We are open only Thursday & Friday, 9/22 & 9/23 8 a.m. to 6 p.m. and Saturday 9/24 from 8 a.m. to 3 p.m. For payment we accept credit cards, debit cards, cash or checks!
Plug in that GPS thingy and enter; Longview Nursery, 557 Hackman Road, Lititz, Pa. 17543. By the way, I don't do phones, way to busy. That's why I don't put my phone number in ads. Look me up when you get here, I'm the guy with white hair and a green shirt and Kathy my wife is the good looking young lady with the green shirt! Now get in the car and get on over here before all the nice stuff is gone!
Tom & Kathy Weidman
Click Here to Share on Facebook